Disaster Preparedness- Is your family ready?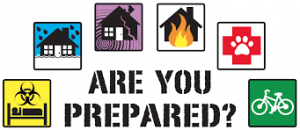 Disasters can happen any time, anywhere. Schools have fire drills and tornado drills and people often have plans for their families when something bad happens such as a fire, tornado, power outage, flood and other disasters that can occur, but do you have a plan for your pet? Pets need a plan just as much as we do in order to get out of the house safely and to keep everyone together as a group.
Fire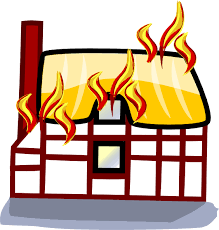 Fires are, unfortunately, one of the most common household disasters. Fires can be small and only cause minor damage to a huge-raging problem that can destroy entire homes. What's your plan for safety? Do you have a meeting place for escape? Do you know what to do if one occurs? What about what to do for your pets? Your first concern should always be the people in the house. Make sure you and your family can evacuate safely before trying to rescue anything else. If you can make it safely and it is safe to evacuate your pet, calmly leash them or pick them up to get them out the door. Keep a leash near each exit of your home to make this as easy as possible, time is always of the essence in these situations. If you are not able to get to safety, notify the firemen when they arrive of the number of pets still in the home so they can try and save them as well. Sometimes, it can be hard to remember everything when you are in a critical situation. There are emergency stickers you can purchase that you can put on the doors of your home indicating how many pets you have and the type of pets to help in these critical situations. If something happens and you are unable to care for your animals due to injury, have a talk with a close friend or family member who may be able to care for your pets for you and are willing to take them into their home if something happens. It can also be good to indicate to your veterinarian who is authorized to care for them including who make medical and financial decisions for them. Have a talk about your wishes for serious medical situations including price with the person you choose as well, they need to be very comfortable and confident with your wishes in order to help make decisions.
Natural Disasters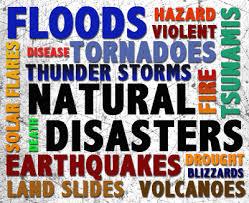 Natural disasters including floods, tornados and earthquakes do happen and can be devastating. These events can destroy homes, belongings, and separate families from their loved ones and their pets. Having a meeting place that your family and friends know about is a good thing to help reunite your family together, but what about your pets? These disaster times can be hard on pets and they are often separated from their families with nowhere to go. Relief efforts such as those of the Red Cross help people during these times but often do not have the resources to look for lost pets or help with pets. Local humane societies ban together to try and help as much as possible but their resources are often limited. So how can you help? Make sure your pet is always wearing an identification tag of some kind. Having a pet disaster kit with copies of medical records, your information and your pets' medications in a backpack can help make sure your pet is easily identified and rescuers are made aware of their medical conditions. You can also keep treats, small bags of food, blankets, collars and leashes in the bag as well to help other people. Always have a hard carrier available to transport your kitty friends. Mesh carriers can be easily torn or destroyed but hard-sided carriers ensure your cat's safety as well as the safety of rescue workers. You can take a little pencil bag or sturdy clear plastic bag that zips, put medical information and your information in it and zip tie it to the carrier. It is also a good idea to have a large hard-sided carrier or kennel for your dogs as well and you can do the same with the information.
Collars and tags fall off but a microchip is forever!
According to the American Humane Society, about 10 million pets go missing every year. About 1 in 3 pets will go missing at least once in their lifetime. Emergencies and natural disasters increase the chances of your beloved pet going missing. Only 22% of dogs and 2% of cats who arrive at the shelter without a microchip get reunited with their owner, that's very low! Microchipping your pet ensures that they have identification for life and increases their chances of being returned to you. The microchip is about the size of a grain of rice and administered between the shoulder blades under the skin of your pet with a needle. They are not required to be sedated and it is a non-surgical process. The microchip contains a number that is then registered with the national database of microchips with your pet's information as well as yours. When your pet goes missing, veterinary hospitals and humane societies all over the country and even the world can scan them for a microchip and this chip number then leads them back to you. Unfortunately, only 58% of microchips get registered in the database. Here at Westarbor, when we place this microchip, we enroll the microchip in the national database for you. However, if at any point you move or get a new phone number it is very important to let your veterinarian know so they can direct you on how to update your information in the national database so the most current information is available to help ensure your pet will always find their way home.
Emergencies happen, they are an unavoidable part of the life. The better you prepare, the better you and your family will be able to handle these potentially devastating situations. Have a plan, practice that plan, make sure everyone knows how the plan will work and don't forget to include your pets! Feel free to ask our staff how to better prepare your household and pets for disasters.